Calypso Cove Marina has many recreational activity rentals to offer! To make a reservation, please contact at Calypso Cove Marina at (405) 360-9846 or calypsocovemarina@gmail.com. Canoes and paddle boats, are typically available for walk-ins, but pontoon boats should be scheduled in advance.
Rentals include:
Canoes, Paddle Boats, and Pontoon Boats.
In addition, we have fishing gear, including live minnows, available for purchase. State Fishing License is required to fish.
Canoes Rental Options $30 for 2 Hours. $60 Per Day (From Opening - 6pm) Maximum of 3 People per Canoe Life Jackets are required by state law. Please bring your own or we have jackets rentals for $6.
Paddle Boat Rental Options $8.50 per Person per Hour Maximum of 4 People per Paddle Boat Life Jackets are required by state law. Please bring your own or we have jackets rentals for $6.
Pontoon Boat
We have four NEW pontoon boats available for rental. Reservations should be made in advance, and a $149 reservation fee made via credit card is required (Goes towards the rental).  You will only be charged for the fuel used out on the water.  All boats come with any necessary safety devices. Tubing is encouraged! We offer tube rentals if you are interested for $50.
Rules & Regulations 25 Years of Age to Rent Valid US Driver's License Maximum of 8 People per Boat (including children & infants)
*All pontoon rentals are full of fuel before take off, upon return, rental party will be responsible for the cost of fuel used.
Rental Rates
Weekdays: 9:00 am to 1:00 pm or 1:30 pm to 5:30 pm for $249
Weekends (Saturday & Sunday): 9 am to 1 pm or 1:30 pm to 5:30 pm for $249
Holidays $299 for 9 am to 1 pm $299 for 1:30 pm to 5:30 pm
Rental Tubes $50
Life Jackets $6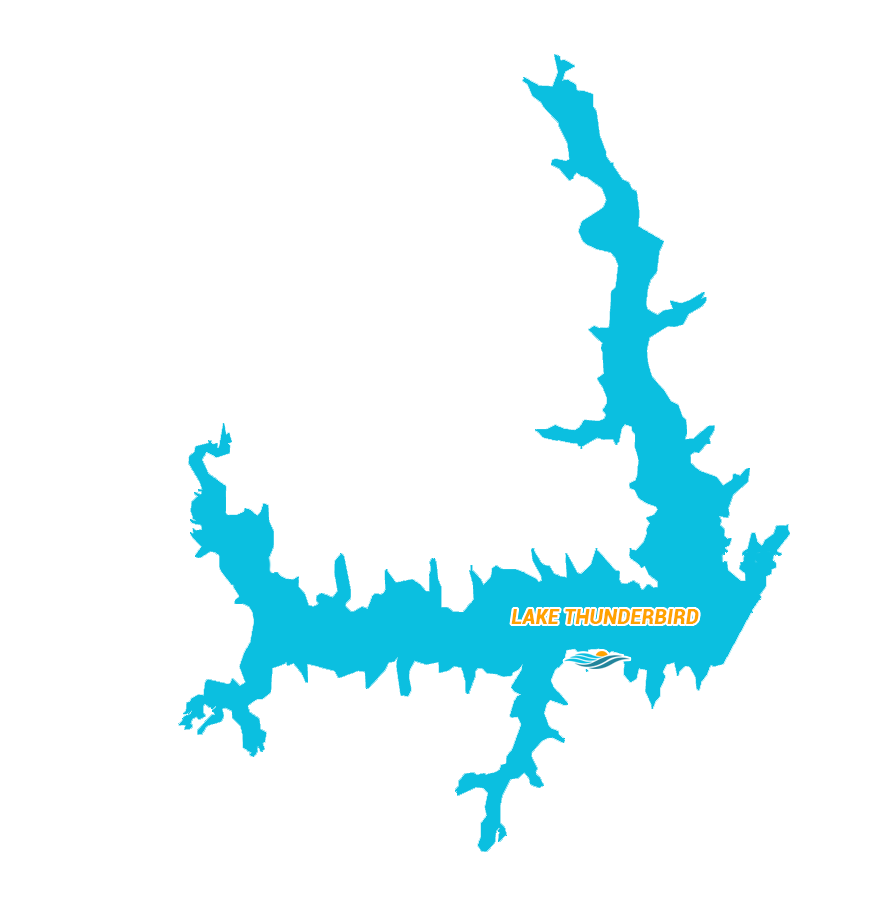 We Are On Lake Thunderbird
Lake Thunderbird State Park offers a variety of water activities and recreation. The park features two marinas (Calypso Cove Marina and Little River Marina), nine boat ramps and two swim beaches. Accommodations include over 200 RV sites with 30 full hook-up sites, restroom facilities and primitive campsites. Lake Thunderbird State Park also features playgrounds, picnic tables and an archery range. A total of ten picnic shelters for groups and eight family shelters (Little Axe campground only) are available for reservation through the park office.
Both the Lake Thunderbird Nature Center and equestrian trails are located in the Clear Bay area. The trails, which are open Wednesday through Sunday, cover four miles and feature 12 obstacles. Negative Coggins papers are required, and no on-site stables are available. An array of hiking, mountain biking and nature trails are also available in Lake Thunderbird State Park. Deer archery and waterfowl hunting are available in designated areas during the applicable seasons.