Calypso Cove Marina offers options for floating slips, dry, storage, boats and RVs! Contact us at (405) 360-9846 or CalypsoCoveMarina@gmail.com for wet slip and dry stall availability.
Floating Slips
We have over 100 floating boat slips, covered and uncovered. Sizes range from 20 feet and 28 feet uncovered slips for sail or pontoon boats to 24 feet and 32 feet covered slips for ski boats or express cruisers.

Dry Storage
Our modern dry storage facility offers a variety of options for storage of your boat or RV. Our completely enclosed buildings are 12 feet wide inside and have a 10 foot by 10 foot overhead garage door.
Our docks are well maintained and lighted with plenty of room between docks for maneuvering. The marina is gated, and our management staff lives on site to provide a high level of service and security.
These buildings are 30 feet or 36 feet deep, have solid sheet metal divider walls (not chain link fence or chicken wire), and sky lights in the roof so you can see where you are backing.
We also have large buildings for RVs or cruisers on trailers that are 12 ft. wide, 40 ft deep and 14 ft. high. There are no dividers or doors on this building.
We also have parking outside on a gravel lot. Our dry storage facility is accessible 24/7 via a security gate inside Lake Thunderbird State Park, Clear Bay Area, halfway from Highway 9 to the boat ramp.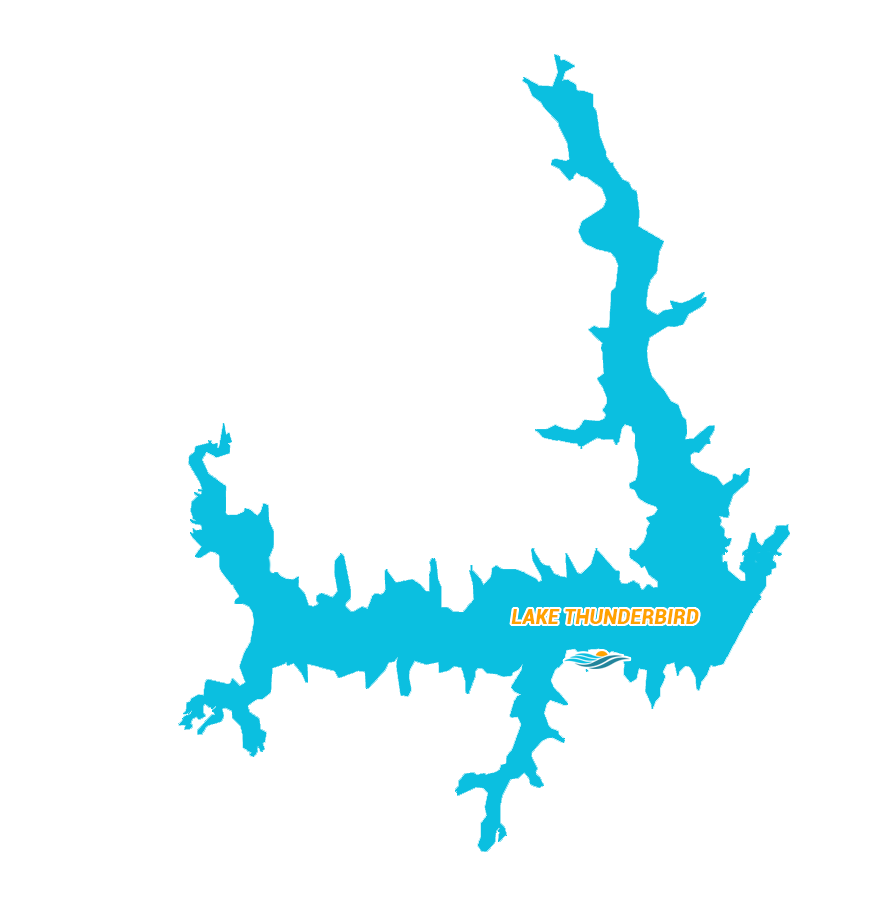 We Are On Lake Thunderbird
Lake Thunderbird State Park offers a variety of water activities and recreation. The park features two marinas (Calypso Cove Marina and Little River Marina), nine boat ramps and two swim beaches. Accommodations include over 200 RV sites with 30 full hook-up sites, restroom facilities and primitive campsites. Lake Thunderbird State Park also features playgrounds, picnic tables and an archery range. A total of ten picnic shelters for groups and eight family shelters (Little Axe campground only) are available for reservation through the park office.
Both the Lake Thunderbird Nature Center and equestrian trails are located in the Clear Bay area. The trails, which are open Wednesday through Sunday, cover four miles and feature 12 obstacles. Negative Coggins papers are required, and no on-site stables are available. An array of hiking, mountain biking and nature trails are also available in Lake Thunderbird State Park. Deer archery and waterfowl hunting are available in designated areas during the applicable seasons.